09 octobre 2005, 18:57
... 09/10/2005 à 06:11...
---
09 octobre 2005, 10:47
Leading blank by the hand...09 10 05 à 12:59...
---
09 octobre 2005, 08:19
stranger in this world sur 09/10/2005 à 06:11...
---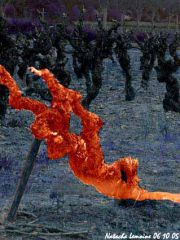 06 octobre 2005, 13:09
voilà , je voulais mettre une jolie image de la nature. L'original était un peu terne...mais le pied de vigne se tordait déjà...pliait déjà sous je ne sais quel poids..., encore en vie aidé par sa béquille/tuteur, toutes fêlures ouvertes...exposé au soleil brûlant presque radioactif... Alors je l'ai...
---
05 octobre 2005, 13:03
"Au pays du Comme Si...", ils ont mis plein de couleurs, du bleu pour entrevoir la mer...du orange pour le soleil levant sur la plage...des sièges pour s'reposer et un petit sac juste avec l'essentiel...la chaleur...la douceur...le soleil....Et "Au pays du comme si", ça tourne,...
---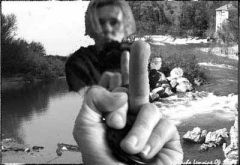 04 octobre 2005, 12:58
Entre fureur et apaisement...entre le flot incessant des affects humains et les bouts de moi qui flottent à la surface d'une eau morte...va et viens incessants in my mind , in my body...je surnage dans la fureur of a burning summer and the tears of a dead september... Becoming nothing, just a thing...
---
03 octobre 2005, 12:53
...
---
02 octobre 2005, 12:38
ET POURTANT THE SKY SEEMS SO BLUE...i've seen the face of hate...i think i didn't really see it...Hate and Indifference...i don't understand why...love and indifference...i don't want to see them again...nevermore...there's no reason...just an inendurable Pain that i'm not able to support...pictures...
---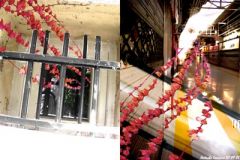 30 septembre 2005, 18:53
no words....30 09 05 No words...just pictures... just a moment...in one place...a day......
---
27 septembre 2005, 18:48
 27/09/2005 à 13:36 Waiting for legal drugs... Waiting for legal drugs...as a Junkie who needs a fix... The shop is open, always open...Drugs to survive...they 're building a Wall between my mind and my body... à travers ces barreaux ...i try...to catch the light... Saisir la lumière...à tous...
---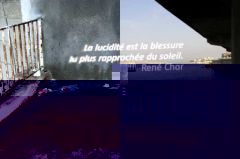 25 septembre 2005, 18:36
just feeling like Marseille... juste comme Marseille...entre cages et horizon...beauté et crasse...violence et apaisement...Marseille aux multiples visages, regard sur l'infini ...les pieds chancelant de tant différences...doux clapotis de mes rêves en errance Marseille qui espère...noyée dans sa...
---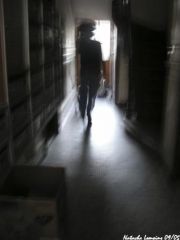 24 septembre 2005, 18:30 1
for people who are half-burned by so much light There are people who approach the sun too near that a part of them is burgled...they look likes birds with broken wings...and they try again and again  to fly away, but something , someone hold them back...something called fever for life...and they...
---
24 septembre 2005, 18:18
feeling so sad 24/09/05 aujourd'hui je me sens si triste, j'ai perdu toutes mes illusions sur la seule chose qui me faisait bouger, évoluer, vibrer.......les relations humaines je me sens si étrangère à ce monde dans lequel je suis censée vivre, et celà me ramène à un de mes écrits d'il y a quelques...
---